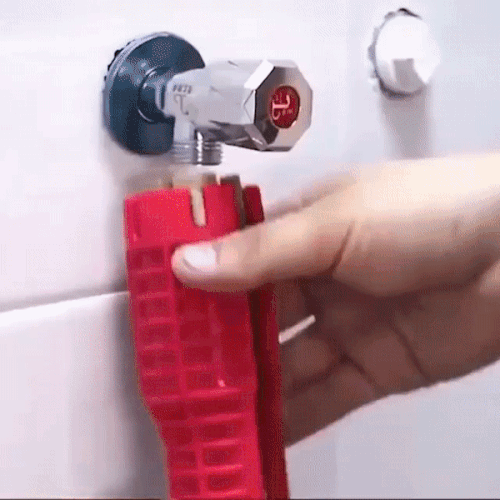 ✅ Now you'll never have to contort yourself to fit into tight spaces again with this amazing 8-in-1 sink wrench!

✅ This unique plumbing tool will help you easily tighten or loosen hidden nuts or screws in hard to reach places!

✅ It's designed to work seamlessly with everything from feed nuts, shut-off valves, feed baskets and more!

✅ This is an essential tap wrench for any handyman!

✅ Make plumbing repairs easier and avoid having to squeeze and contort your body in tight spaces with the 8-in-1 Sink Wrench!

Lightweight, durable and easy to grip!


✅ It features a practical hollow-out design that ensures it remains lightweight and comfortable to use!

✅ Its open side slot design makes it easy to slide through pipes and tubes to access hard to reach nuts!

✅ Made with quality lightweight and durable materials to allow you to easily use the key without hurting your wrists!

✅ This is a great plumbing wrench for professionals and amateurs alike!

✅ Get the convenience you need to tighten those hard to reach nuts on your sink with the amazing 8-in-1 Sink Wrench now!

SERVICE CLIENT 24/7
Notre équipe est à votre disposition pour toute question sur nos articles ou votre commande.
PAIEMENTS SÉCURISÉS
La gestion de nos paiements en ligne sont 100% Sécurisés avec Stripe et Paypal.
SATISFAIT OU REMBOURSÉ
Nous proposons une garantie Satisfait ou Remboursé pendant 30 jours après réception des articles.